Traveling Again…and again
I find myself drifting between worlds. In the past I worked on being a traveler, rather than a tourist. I tried to make informed decisions about locations, then plotted the way for my adventurous wife and myself. We learned some limited (though useful) language skills and we stayed in accommodations that were aligned with the local experience. Now, I fear I am drifting from traveler toward tourist. Sure, we still plot our own way (at least so far as land tours go) and we still like to learn useful language skills. And yes, we still try to learn local customs, history and geopolitics. But we no longer look for the local hotels as we once did. I'm becoming a proponent of staying in smoke-free and air conditioned venues. They don't need to be western by any means…just comfortable.
Travel is an effort (if done well.) When we pour effort into a day, it really helps to have a reciprocal respite to recharge at the end of the day. We just returned from Istanbul where we stayed at the convenient and comfortable hotel Ibrahim Pashta. We were treated as honoured guests by their energetic and engaging staff. Each day, after walking more than 10 miles, we were able to recover and repeat again the next day.
I've also taken to cruising. I know. That screams TOURIST! And I understand that impression. But I have to counter that the cruise ship is, at its core, a floating hotel. The benefits of staying in a floating hotel should not be overlooked. We unpack ONCE, and then we are taken from port to port where we get to choose how to engage in the local culture. We arrive refreshed in each new city instead of beleaguered by rail or air travel. We are able to revert to our native language during rest periods so we are less overwhelmed when we again try the local language each succeeding day.
AND we get to meet some of the most interesting people from places beyond our travel horizon. The cruise line hires people from around the world and each, if given the opportunity, will tell you about their home, family, life and plans for the future. Many will speak more candidly about their countries politics than they ever could were they at home…and ultimately each of us becomes an ambassador of our country.
These connections bring me hope. They allow me to see people and hear stories unfiltered by the news and social media's focus on lowest common denominators (like fear, anger and indignation.)
On my most recent adventure, while traveling on the Celebrity "Beyond" I made a number of acquaintances who were taken by my new 360* camera. So…as promised…here is a link to videos I took. (LINK)
Videos that start with a title 360 allow you to look around and above you, so be sure to drag your mouse cursor around the video while it plays to get the full experience.
Videos that start with VID have been edited to a normal video view (no scrolling available.)
Be patient. I'm only allowed to upload about 10 videos per day. It will take several days to get them all up.
Watch this space as I continue to work on my images from Greece and Italy last November…and for the newest images of Barcelona, Cinque Terra and Istanbul…as time allows.
Want access to pre-publication specials?
I invite you to join my growing list of interested collectors. By joining my mailing list you you will be informed of each new creation days or weeks ahead of gallery placement. Best of all, you will have access to an insiders pre-release special offer. I promise I will not sell your contact information (Both because that would be wrong to do, and because I just don't know how!)
Port Townsend Gallery
715 Water St, Port Townsend, WA
Thursday, May 26, 1.30p-5p
A/NT Gallery Seattle
Seattle Center, between Key Arena and Intl. Fountain
Saturday, June 11, 11a-6p
Also showing at:
From time to time I am favored with a space at a local business. Thanks to these friends for sharing their wall space:
Salon Saida
1429 Market St, Kirkland, WA 98033
Guest Artist
Spice & Tea Exchange
929 Water St, Port Townsend, WA
If you are a business and would like to host a temporary exhibit, please email me: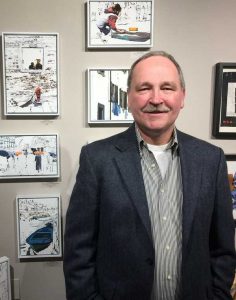 Artist's Statement
Tom Saknit, Redacted Photography™ Fine Art Photography
"Were you there, did you read about it, or might it remind you of a story someone once told you?"
Our memory of places and events is imperfect…sometimes truer-than-true and sometimes less than faithful. With Redacted Photography™ through color, motion and meticulous deletion I play with images and perception to highlight the imprecision of memory…and the joy of romanticized recollection.
A mixed media artist in the broadest sense of the term, my work begins with a photograph and through a subtle minimalistic approach, ends with an impression. The work is a fugue on my fascination with the unreliability of memory, and the fight for clarity to recall life's fleeting moments. The work is systematically, unflinchingly subjective, referencing recognizable form at its basic level and inviting the viewer to fill in the lost spaces that punctuate the canvas.
I have always been drawn to unfinished work and the forms that are created in the transformative (and for me, magical) process that lies between concept and creation. The skeleton of a building under construction…the pieces of cloth on a designers table…Gilbert Stuart's "Washington," …Leonardo da Vinci's "Adoration of the Magi." As an artist I am driven by the challenge to present an image…a memory… with as little information as possible, while still preserving impression and impact.
In the Pacific Northwest, I live and work on pieces which I hope will work for you.