Mediterranean Memories:
Lands Connected By The Sea
While most might think of the sea as a dividing factor, isolating cultures from one another, the Mediterranean is an example of water as a cultural bridge. The seafaring peoples of the Mediterranean have exchanged goods, ideas, and inspiration for millennia. Each port city from Spain, through Italy and into Greece shows influence from cultures beyond the liquid horizon.
Whether you have traveled the cities celebrated in this show, visited them virtually, or imagined their stony streets, you will be inspired by the iconic beauty and old-world charm that captivate so many hearts. My trademark approach to highlighting subject while removing visual noise from my images reminds viewers of the impact of distilled memories, and the poignance of details lost. I invite you to linger, entering into an on-going dialogue with each image, where the viewer recalls, imagines, and replaces the lost spaces that punctuate each canvas.
"Mediterranean Memories" opens November 1 through November 30. A Reception will be held Saturday, November 11 from 2-5 pm where you can meet me and other artists of Gallery North, enjoy light refreshments, and view this (hopefully) impactful display. ArtWalk will be Thursday, November 16 from 5-8 pm. Please stop by for a visit to see this unique show any time throughout the month.
Want access to pre-publication specials?
I invite you to join my growing list of interested collectors. By joining my mailing list you you will be informed of each new creation days or weeks ahead of gallery placement. Best of all, you will have access to an insiders pre-release special offer. I promise I will not sell your contact information (Both because that would be wrong to do, and because I just don't know how!)
Port Townsend Gallery
715 Water St, Port Townsend, WA
Saturday, Nov 25, 10a-5p
A/NT Gallery Seattle
Seattle Center, between Key Arena and Intl. Fountain
December, TBA, 11a-6p
Also showing at:
From time to time I am favored with a space at a local business. Thanks to these friends for sharing their wall space:
Salon Saida
1429 Market St, Kirkland, WA 98033
Guest Artist
Gallery North, Edmonds
401 Main St, Edmonds, WA 98020
If you are a business and would like to host a temporary exhibit, please email me: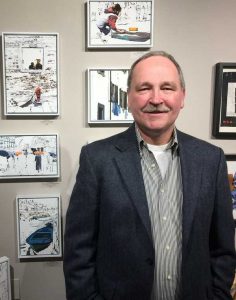 Artist's Statement
Tom Saknit, Redacted Photography™ Fine Art Photography
"Were you there, did you read about it, or might it remind you of a story someone once told you?"
Our memory of places and events is imperfect…sometimes truer-than-true and sometimes less than faithful. With Redacted Photography™ through color, motion and meticulous deletion I play with images and perception to highlight the imprecision of memory…and the joy of romanticized recollection.
A mixed media artist in the broadest sense of the term, my work begins with a photograph and through a subtle minimalistic approach, ends with an impression. The work is a fugue on my fascination with the unreliability of memory, and the fight for clarity to recall life's fleeting moments. The work is systematically, unflinchingly subjective, referencing recognizable form at its basic level and inviting the viewer to fill in the lost spaces that punctuate the canvas.
I have always been drawn to unfinished work and the forms that are created in the transformative (and for me, magical) process that lies between concept and creation. The skeleton of a building under construction…the pieces of cloth on a designers table…Gilbert Stuart's "Washington," …Leonardo da Vinci's "Adoration of the Magi." As an artist I am driven by the challenge to present an image…a memory… with as little information as possible, while still preserving impression and impact.
In the Pacific Northwest, I live and work on pieces which I hope will work for you.