Virtual Staging
Imagining what could be
For some, art is an investment. For others, it is a decoration. Either way, wouldn't it be nice to pre-visualize what your new piece could look like in your space…or to even see several options of what might work.
To that end, I offer virtual staging.
With your photograph and measurements, I can alter your picture to include one or more pieces/versions for your consideration.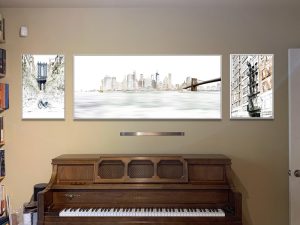 How?
Just a few steps to seeing your vision
Tape a tape-measure to your wall near the center of the wall space.
Take a digital photograph (full resolution please) of your wall including windows, and other objects that will be near your new piece.
Email me the photograph with a request to see a specific image or images in a size you think might be good.
I'll process that image and send you a sample like the one seen here.
From there we can try other other options until you settle on the image(s) and size(s) you like.